Introduction
A freight company based in Africa wanted to build a fleet of modern locomotives to speed up the transport of freight and to streamline logistics across a nation. They ordered over 200 locomotives that each needed a reliable train control and management system (TCMS) network to maintain both onboard and train-to-ground communications in order to keep drivers, wayside facilities, and train control centers informed about the status of the train.
The company that manufactured the locomotives chose Moxa to use their world-class experience in the industry to accelerate time to market, utilize their field-proven industrial Ethernet solution, and their ability to provide ongoing support.
System Requirements
The system has to be reliable, available, and maintain constant connectivity. The locomotive network needs to connect multiple onboard systems through robust Ethernet wiring. In addition, there needs to be external wireless connections to wayside equipment, rail stations, and control centers.
The onboard network must support TRITON data communication equipment and connect a variety of peripheral systems, including a power excitation system, data and event recorders, HMI displays, and vehicle control units. Also, there should be video surveillance in the driver cab to monitor the train and ensure that the train whistle is used properly to enhance safety when the train is in operation.
The train communication system also needs versatile wireless connections to facilitate data communication between locomotives and control offices whenever trains are in motion.
Moxa Solution
In order to meet the TCMS requirements, Moxa provided fully integrated Ethernet solutions that deliver converged Ethernet connectivity, excellent video recording and hot-swappable storage, and seamless wireless communications between locomotives and the trackside.
Onboard Connectivity
To ensure data communications are smooth during turbulent train journeys, Moxa's TN-5308 and TN-5305 switches use M12 connectors to guarantee reliable Ethernet connectivity. In addition, the switches comply with the mandatory sections of the EN 50155 standard to ensure the switches will operate when experiencing wide temperature fluctuations, strong vibrations, and EMC interference.
Safety Monitoring
The palm-sized IP camera is ideally suited for deployment in small train cabs. The connected V2416A computers are equipped with 2 hot-swappable storage trays to facilitate flexible video storage.
Train-to-Ground Connectivity
The UC-8481* is built with a RISC processor in order to implement various types of radio and mobile communications between locomotives and ground facilities. The UC-8481 is equipped with a unique 74 VDC power supply to meet specific local electrical requirements, and has seven built-in antenna ports to ensure it is suitable for wireless deployment in many locations. In addition, the UC-8481 is certified by ICASA (Independent Communications Authority of South Africa), which demonstrates that it can support flexible and seamless Wi-Fi, cellular, and GPS communications wherever the locomotive is.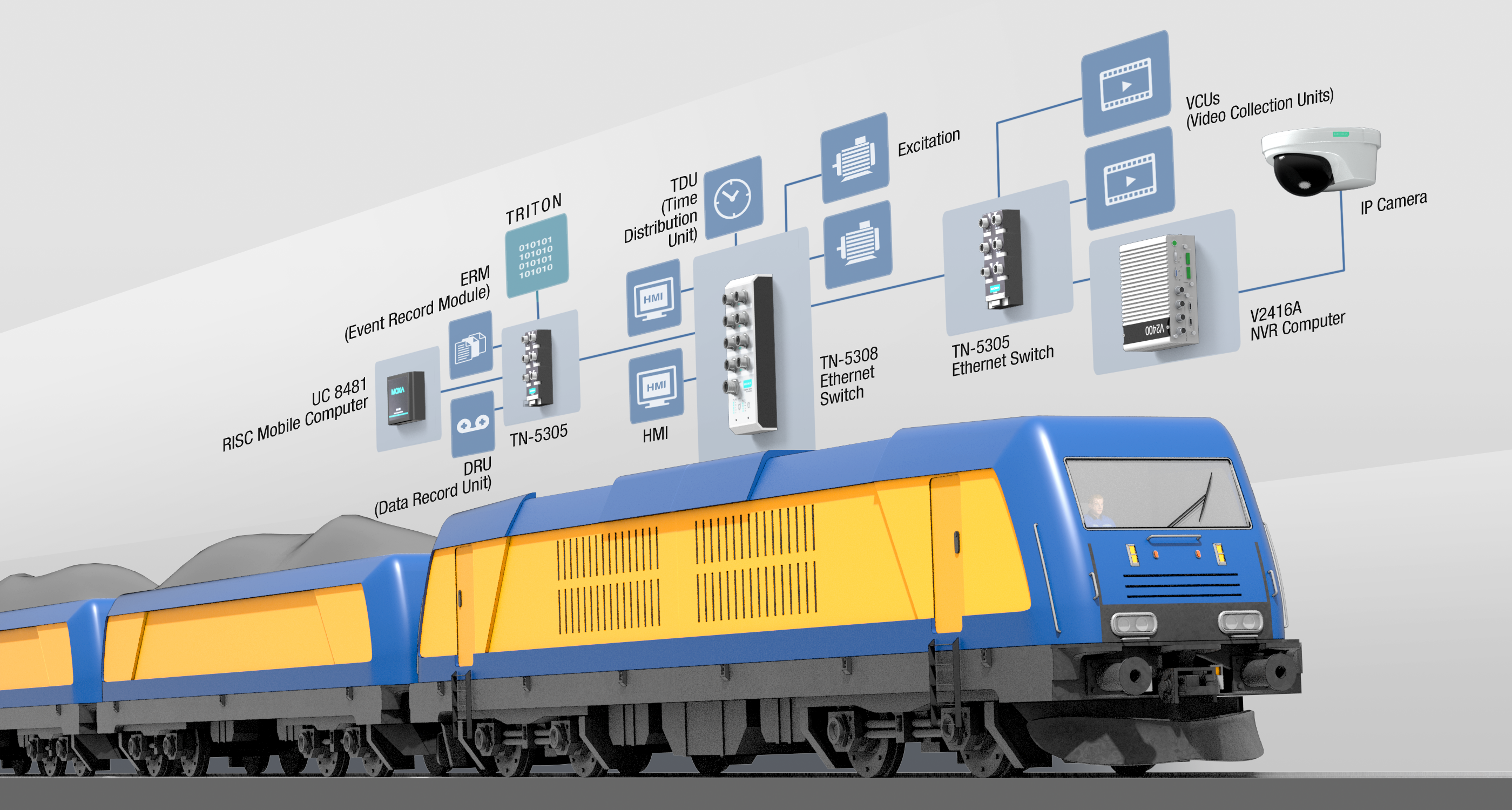 Why Moxa
Total Ethernet solution that facilitates integrated train communications
Rugged devices that are compliant with the essential sections of the EN 50155 standard
Expertise within the rail industry
Expert services to assist with attaining global certifications and initial testing and implementation of the project
*The UC-8481 has been phased-out and the replacement model that offers full compatibility is the UC-8580.